Map Unavailable
Date/Time
Date(s) - 07/30/2020
7:00 pm - 9:00 pm
Categories No Categories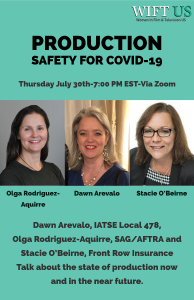 Production Safety After COVID-19- Discussion with the Unions and Insurance
Thursday July 30th- 7:00 PM EST
We are Opening this event up to our Industry! This topic is important to future productions and how we move forward!!
What can we expect, what does our industry look like, how do we stay safe and get back to work?
Dawn Arevalo, Secretary-Treasurer for IATSE Local 478, Olga Rodriguez-Aquirre, Executive Director, Entertainment Contracts – SAG/AFTRA and Stacie O'Beirne, Front Row Insurance talk about the state of production now and in the near future.
What are the health and safety obstacles? What does production look like with current government regulations? How are your unions working for you during the pandemic? Get answers to questions like will insurance carriers protect against shutdowns from COVID and if not, can we mitigate the risks? What do we need to know to continue working?
Guest Speakers:
Dawn Arevalo is the Secretary-Treasurer for IATSE Local 478, a Louisiana Notary Public, and a registered tax preparer. Local 478 has over 1500 members covering crew in Film, Television, and Commercials. With over 25 years in theater and film as a stage manager and costumer, she coordinates the working of the local, administering contracts, and fighting for the rights of workers. During COVID-19 she has worked diligently to get film workers on unemployment and has now shifted to safety details of crews returning to work. She also serves as the Secretary for Krewe de Pink raising money to help find a cure for Breast Cancer.
Olga Rodriguez-Aguirre has been practicing labor law in the entertainment industry for over 23 years. As a law graduate of UC Hastings College of the Law, she joined Bush Gottlieb (formerly Geffner & Bush), a union-side labor boutique in Burbank, CA where she represented many of the entertainment guilds and plans- SAG, DGA and WGA among others for 8 years in the area of financial assurances and ERISA. Olga has been with SAG-AFTRA (formerly known as Screen Actors Guild, Inc.) for 15 years
working in the areas of labor, secured transactions, copyright and bankruptcy, specializing in negotiating with producers and attorneys for the payment of additional
Stacie O'Beirne is a NY Film and Television Production Insurance Expert. She started her career at Albert G. Ruben in Los Angeles in 1989 handling several major production companies. While at Albert G. Ruben, she started a production insurance program for a major network with numerous channels and handled all Film Production and Errors & Omissions insurance for a major Media Conglomerate and their divisions including a Major Motion Picture / TV Studio, numerous TV and Cable Networks, Record Labels, and Publishing Companies. In 1999 Stacie moved to New York and continued at Albert G. Ruben. Stacie started at Marsh in NYC in 2000 and developed 'wrap-up' insurance programs for several Advertising Agencies (TV Commercials) and Record Companies (Music Videos). She also worked on several other large media accounts. In 2005 Stacie began working at DeWitt Stern in New York on many types of Film and TV Accounts including Major Studios, TV Networks, Independent Film, Advertising Agencies and Record Companies.
Stacie's goal is to assist her many clients with all their production insurance needs and helping solve insurance issues. She has a vast knowledge and experience in Reality Television and their unique exposures.